Home of the Short Ones
Shortiejacks • Hunt Terriers
​
Shortiejacks:
AKC + EJRTCA Full Registration -

$1800
Puppies produced by

Compatible

Embark Tested Parents
Occasional Smooth Coats

- Mostly Broken/Rough
~~~~~~~~~~~~~~~~~~~~~~~~~
​
Solid Shortiejacks aka Hunt Terriers
AHTCA - Limited / Full Registration - $1800.
Puppies produced by Compatible Embark Tested Parents
Mostly Smooth Coats - Occasional Broken/Rough Coats
Chocolate Sable, Sable, Tan, Back/Tan
Blue Carriers - 2 copies - with Limited Reg. - $2500.
Blue Carriers 2 copies - with Full Reg. - $3000.
Sable, Solid Blue, Blue Fawn, Charcoal, Isabella, Lilac
~~~~~~~~~~~~~~~~~~~
DISCOUNT OFFER:
Pay In Full at time of selection, to receive a

$100 discount.
DISCOUNT APPLIES

ONLY ON DAY OF SELECTION
of

new selected puppy. Please call to discuss your interest.
We do not place puppies On Hold
Puppies remain available until payment is received to

confirm
as Reserved/Purchased. Thank you.
​
Personal Visits by Appointment only
Call

813-677-8490

to schedule visit.

Visitation 11am – 5pm daily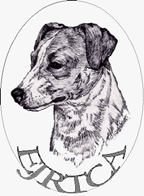 PUPPIES: under 4 wks of age' requires
$500. Deposit to Reserve.
PUPPY BALANCE DUE:
when puppies reach 6th week of age.
PUPPIES: over 6 wks of age' requires payment in full at time of selection.
FIRST LITTER SIRED BY LEVI
RESERVED PUPPIES WAITING TO GO HOME
UPDATED PICTURES POSTED 10/17/21
JERAMI - MALE
RESERVED TIRELLI FAMILY
MR. CEDAR - MALE
RESERVED AKINS FAMILY
JESSICA - FEMALE
RESERVED SHANNON FAMILY
JAKE - MALE
RESERVED SHANNON FAMILY
REQUIREMENTS TO RESERVE
$500. Deposit - will be required to reserve a current available puppy or a future planned litter pick. Contact Form is required to move forward with reservation or current purchase. Applies to Pre Birth Reservations or to Reserve current Listed as Available.
*It is with Seller's full Discloser regarding Advance Reserve
Should buyer decide to cancel their confirmed advance reservation or current pick selection from listed as available for any reason. Buyer' will forfeit the $300. standard non-refundable portion of the Initial Deposit or Payment applied towards current requested puppy or future planned litter pick selection that was requested to be removed from availability list. However, Deposits will be held for up to 2 yrs towards a future puppy.
Our First Blue Rough Coat
Brightjacks Shortiejacks Pooltime in 2002
ADVANCE RESERVATIONS: SELECTION DETERMINED IN DESCENDING ORDER
PICK ORDER IS DETERMINED BY DATE RESERVATION WAS CONFIRMED

As each New Litter arrives, puppy selection's will start from the oldest Reservation down.
Only the puppies listed as available, will be next persons choice of a male/female.
We normally do not offer switching from Shorties to Solid Shorties unless pre discussed.
Blue shortiejacks~aka~known as Hunt Terriers will only be available by advance request.
All Blue puppies will remain on hold until Breeder makes Selection.
Any Questions, call Gertie 813-677-8490
Female/F - Male/M - Smooth/S - Broken/B - Rough/R
Shortie White/SW - Shortie Solid/SS
​
WE WILL NO LONGER BE ACCEPTING RESERVATIONS for
"PREDOMINATELY WHITE SMOOTH COAT S ".
We only raise the wire "Broken / Rough Coat Shortiejacks" due to minimal shedding.
Current Smooth Coat Reservations will be completed as Requested.
​
Changes do not apply to our Solid Shortiejacks.
RESERVATION LIST:
WHITE - SHORTIEJACKS - SMOOTH COATS
​
​
Selecting from Stevi/Cuatro upcoming litter
02_19_21_FERNANDEZ_M_S_1 MALE
04_25_21_WILLIAMS_F_S_2 FEMALES
​
​
06_12_20_WINGRAT_F_S_SW_ON HOLD
12_21_20_THOMPSON_F_S_SW_ON HOLD
01_12_21_NUTT_F_S_SW_ON HOLD
​
***************************************
RESERVATION LIST:
SOLID - SHORTIEJACKS - ALL COATS (S/S)
MALE OR FEMALE
​
02_03_21_LEE_M_BLUE
04_13_21_BROWN_M_BLUE
06_19_21_ALLEN_F/M_BLUE
****************************************
RESERVATION LIST:
WHITE SHORTIEJACKS - W/COLOR MARKINGS
BROKEN / ROUGH - W/COLOR (S/W)
MALE OR FEMALE
​
07_25_21_STEINER_M_B_SW
​
​
****************************************