Home of the Original Short Ones




Solid Shortiejacks aka Hunt Terriers
PUPPY BIRTH to 8 WEEKS:
Tails - Tipped - Dewclaws Removed
Wormed @ 3 - 5 - 7 weeks of age.
1st - DAPPV Vaccine @ 6 weeks
2nd - DAPPV Vaccine plus Bordetella @ 8 Weeks
FL. State Health Certificate provided
AKC + EJRTCA Litter Reg. - AHTCA Litter Reg.
FROMM Puppy Food Sample Provided
2 weeks of CRATE Training
HEALTH EXAM:
RIVERVIEW VETERINARY HOSPITAL Our veterinarian's give our puppies a very thorough exam prior to placement. If you have any questions regarding a Brightjacks Shortiejacks puppy. All puppies are checked for Normal heart beat, correct bite, naval/inguinal hernias, obvious skin disorders, internal parasites and luxating patella's.
​
HEALTH TESTING:
We health test our shorties for health concerns that are known to affect several terrier breeds.
PLL Primary Lense Luxation - SCA Spinocerebellar Ataxia
All Shortiejacks Adults and Puppies are PLL + SCA CLEAR by test or parentage.
ALL OF OUR DOGS HAVE BEEN EMBARK TESTED FOR HEALTH AND COMPATIBLE BREEDING : EMBARK
PURCHASE - REFUND POLICY:
All sales are final (NO REFUNDS) unless there is a Veterinary proven Hereditary Health related issue as explained in
the Health Guarantee above. I furthermore make NO assumptions or guarantees regarding puppies requested to be placed with full registration, with or without purchaser's intent to use pup for breeding purposes. Puppies are vet certified at time of placement. Any/all current imperfections will be noted on the health certificate including results of exam for under/over bites, inguinal/umbilical hernias, luxating patella's and testicles descended on males. There is no way to guarantee that puppies will continue to mature as anticipated, as there are many factors that can alter a puppies development. Therefore, we do not guarantee future imperfections, breeding quality or ability to breed when purchased
at such a young age. Puppies that have been determined to have as slight imperfections will be placed as non breeding companions only and placed "SOLD AS IS" as stated in writing so buyer is aware of the imperfections.

Please Note: Shortie Jack Russells thrive on mental stimulation, but also need lots of sunshine, room to run and play so that their body and legs can develop strong. Even though they love the indoor cuddle up lifestyle, make sure that you also allow them to express their natural instincts. You both will be quite entertained and then snuggle up for a cool afternoon nap. We want you to be happy with you Brightjacks Shortiejacks.
REQUIREMENTS TO RESERVE
$500. Non Refundable Deposit will be required to reserve a current available puppy or a future planned litter pick. Contact Form will be required to move forward with reservation or current purchase. Applies to all Pre Birth Reservations or to Reserve current Listed as Available.
*It is with Seller's full Discloser regarding Advance Reserve Requirements
Should buyer decide to CANCEL their confirmed advance reservation or current pick selection from listed as available for any reason. Buyer' will forfeit the $500. non refundable Deposit that was applied to current requested puppy or future planned litter pick selection that was requested to be removed from availability list.
REGISTRATIONS:
Shortiejacks - Puppies preferred placed as family companions. Please call to pre-discuss your interest, if you are looking for a puppy to be placed with full breeding eligible registration.
AKC Registration - provided at time of placement.
EJRTCA Registration - provided at time of placement.
Solid Shortiejacks - also know as Hunt Terriers.
AHTCA Registered - provided at time of placement.
​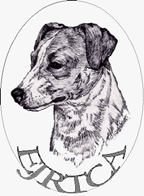 PERSONAL VISITS: BY APPOINTMENT ONLY:
Feel free to scroll through our website and get to know our family of Shortiejacks. We are always available to answer questions or share our love of this awesome breed known as Short Leg Jack Russell Terriers and Solid Color Jacks
known as Solid Shortiejacks. We would be glad to schedule you a personal visit to meet our family or discuss your interest in one of our Shortiejacks by phone. We do not allow visitors to personally handle puppies under 5 weeks of
age, as they will not have their 1st vaccine before this time. Once puppies have reached 6 weeks of age, families are welcome to personally visit us here at Brightjacks to be able to physically interact with their puppy. Families interested
in our Shortiejacks are also welcome by appointment. Thank you for your understanding.